Jeremy Bentham and Rhetoric
by Moya K. Mason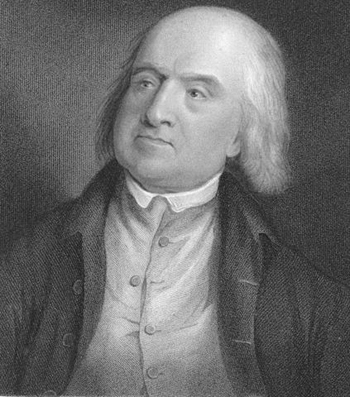 Jeremy Bentham
If you are interested in the rhetorical devices that Jeremy Bentham used in his writings and why those devices made his writing more or less persuasive, this bibliography is for you.
Databases Searched
CBCA Education
ERIC Database: Educational Resources Information Center
Wilson Omnifile: Full Text Mega Edition
Linguistics & Language Behavior Abstracts
Linguistics Abstracts Online : LABS
Find Articles
Humanities & Social Sciences Index Retrospective
IngentaConnect
JSTOR: The Scholarly Journal Archive
Web of Science Citation Databases
MLA International Bibliography
British Humanities Index: BHI
CISTI Source
Literary Index
Philosopher's Index
PAIS International
Worldwide Political Science Abstracts
CBCA Reference
ProQuest Dissertations & Theses
WorldCat
Journal Articles
1. Caster, Paul and Karen V. Pincus. An Empirical Test of Bentham's Theory of the Persuasiveness of Evidence. Auditing, Vol. 15, pp. 1-22.
2. Coe, Richard M. Beyond Diction: Using Burke to Empower Words, and Wordlings. Rhetoric Review, Vol. 11, No. 2 (Spring, 1993), pp. 368-377.
3. Esterhammer, Angela. Godwin's Suspicion of Speech Acts. Studies in Romanticism, Vol. 39, pp. 553-78.
4. Esterhammer, Angela. Of Promises, Contracts, and Constitutions: Thomas Reid and Jeremy Bentham on Language as Social Action. Romanticism, Vol. 6.1, pp. 55-77.
5. Goodrich, Peter. Rhetoric as Jurisprudence: An Introduction to the Politics of Legal Language. Oxford Journal of Legal Studies, Vol. 4, No. 1, p. 90.
6. Gopen, George D. The State of Legal Writing: Res Ipsa Loquitur. Michigan Law Review, Vol. 86, No. 2, p. 336.
7. Jackson, Bernard S. Bentham, Truth and the Semiotics of Law. Current Legal Problems, Vol. 51, pp. 493-531.
8. Kayman, Martin. A Memorial for Jeremy Bentham: Memory, Fiction, and Writing the Law. Law and Critique, Vol. 15, No. 3, pp. 207-229.
9. Kvastad, Nils B. Semantics in the Methodology of the History of Ideas. Journal of the History of Ideas, Vol. 38, No. 1, p. 174.
10. Lieberman, David. From Bentham to Benthamism. Historical Journal, Vol. 28, p. 199.
11. Mulvihill, James. Bentham and Elocution. Notes and Queries, Vol. 49, No. 4, pp. 471-473.
12. Mulvihill, James. The Poetics of Utility: Benthamite Literary Reviewing, 1824-1836. English Studies in Canada (ESC), Vol. 15, No. 2, pp. 149-161.
13. Peltason, Timothy. The Way We Read and Write Now: The Rhetoric of Experience in Victorian Literature and Contemporary Criticism. ELH (English Literary History), Vol. 66, No. 4, pp. 985-1014.
14. Secor, Marie J. Bentham's Book of Fallacies: Rhetorician in Spite of Himself. Philosophy and Rhetoric, Vol. 22, No. 2, pp. 83-94.
15. Stolzenberg, Nomi Maya. Bentham's Theory of Fictions: A Curious Double Language. Cardozo Studies in Law and Literature, Vol. 11, pp. 223- 61.
16. Terrence, Gordon W. Undoing Babel: C.K. Ogden's Basic English. ETC.: A Review of General Semantics, Vol. 45, No. 4, pp. 337-340.
17. Twining, William. Reading Bentham. Proceedings of the British Academy, Vol. 75, pp. 97-141.
18. Zimmerman, Andrew. Legislating Being: Words and Things in Bentham's Panopticon. European Legacy, Vol. 3, pp. 72-83.
Books
Bentham, Jeremy. Deontology Together with A Table of the Springs of Action and the Article on Utilitarianism, ed. Amnon Goldworth. Oxford, UK: Oxford University Press, 1983.
Brockriede, Wayne Elmer. Bentham's Philosophy of Rhetoric, University of Illinois Dissertation, 1969, 1954. Available through the University of Georgia and Purdue University.
Burke, Kenneth. A Grammar of Motives. Berkeley, CA: University of California Press, 1969.
Burke, Kenneth. A Rhetoric of Motives. Berkeley, CA: University of California Press, 1969.
Funk, David A. Bentham as Pioneer in Legal Semiotics, in Semiotics, ed. John Deely. Lanham, MD: University Press of America, 1985.
Goodrich, Peter. Legal Discourse: Studies in Linguistics, Rhetoric and Legal Analysis. New York: St. Martin's Press, 1987.
Goodrich, Peter. Languages of Law: From Logics of Memory to Nomadic Masks. London: Weidenfeld & Nicolson, 1990.
Ogden, C.K. (ed). Bentham's Theory of Fictions. London: Kegan Paul, Trench, Trübner & Co., 1932.
Ogden, C.K. Jeremy Bentham, 1832-2032; Being the Bentham Centenary Lecture, delivered in University College, London, on June 6th, 1932. London: Kegan Paul, Trench, Trübner & Co., 1932.
Ogden, C.K. From Bentham to Basic English. Bristol: Thoemmes Continuum, 1999.
Song, Kiho. The Benthamite Theory of Fiction and Problems of Language in Robert Browning's The Ring and the Book. Michigan State University PhD Dissertation, 2002.
Online Bibliography
Jeremy Bentham: A Bibliography 1989-2004. Available at: http://www.ucl.ac.uk/Bentham-Project/tools/bibliography
Online Full-Text Resources
1. Law and Language, by Timothy Endicott.
2. Jeremy Bentham: An Iliad of Argument, by J.H. Burns.
3. Jeremy Bentham, Social Criticism & Levels of Meaning, by Colin Tyler.
4. The Place of Jeremy Bentham's Theory of Fictions in Eighteenth-Century Linguistic Thought, by Emmanuelle de Champs.
Related Papers
Foucault and His Panopticon
Copyright © 2023 Moya K. Mason, All Rights Reserved
Back to: Resume and More Papers